Star Wars Frontlines
it's an ADD ON to the amazing
Galactic Warfare
MOD for
Call of Duty 4 Modern Warfare
. Will add several features from
Frontlines MOD
.
The main idea was create a way to play it in my LAN with my kid, wife and friends, so BOTs was mandatory since there's no fun playing with just few players, another goal was to make the gameplay less repetitive since have a very limited number of maps and gametypes, also adding several dynamic features and gameplay improvements like a full COOP mode.
With that in mind,
Star Wars Frontlines
was made with several random options that will change completly the map on each round, what will give you a new experience on each time you play giving better life to the gameplay. There's so much new possibilities that will be very hard to play 2 times the same playing 2h a day for several weeks.
The first thing you
NEED
to play is to get
Galactic Warfare
MOD and install it into your
Call of Duty 4 Modern Warfare
game. If you already have it installed, just connect at our server below to get the updated files from the
Frontlines
version.
If you don't have the
Galactic Warfare
MOD just follow the instructions below to download it!
1.
Download :
GALACTIC WARFARE
2.
Download Extra Map :
mp_rebellion
3.
Download do Star Wars Frontlines :
Get it connecting at our server!
+++ Instalation +++

1. Unzip at some place of your HD the

GALACTIC WARFARE

mod

2. Move all folders inside

cod4_swm_gw1\usermaps

to

COD4\usermaps

3. Unzip the Extra Map

mp_rebellion

to

COD4\usermaps

4. Move the folder

swm_gw1

localized at

cod4_swm_gw1\Mods\

to

COD4\Mods

5. Connect at our server and enjoy the force!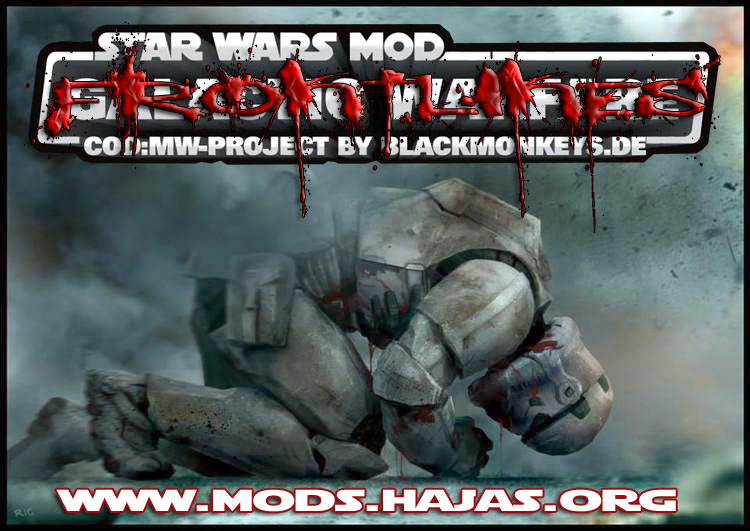 Star Wars Frontlines
was entirely created without the source code of the original
Galactic Warfare
MOD, and because that the changes are limited and was only possible by a weird combination of
C
,
C#
,
batch files
and even
PHP
to make it work, and believe me, it's working great!
More details about the original MOD at
MODDB
!
May the force be with you!